With the rim brakes of the MR Swift, I can't use shrink wrap film to cover the wheels. I made wheel discs from 2mm corflute. The give an overall average speed increase of 1 - 2 kph. Maximum speed increases too - by 3 to 5 kph. There is some minor low speed rumble from the discs. Noticeably less air buffets my legs with the discs fitted.
Notice that I've covered them with reflective signwriters film - a great safety feature, but fairly expensive. Reflective tape can be used as a cheaper option.
MR Swift with wheel discs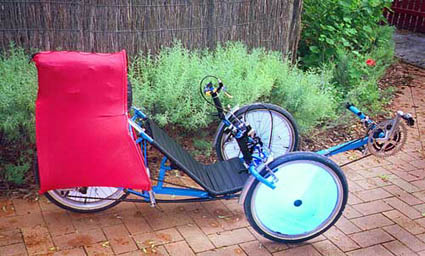 Construction - 2mm Corflute Wheel Discs
The pictures below should be self-explanatory. You can spray paint the finished discs - clean the corflute with metho or thinners first or do as I did and wipe with Ezi-Prep. Ezi-Prep is specifically made to enable painting of shiny or plastic surfaces.
Attaching inner corflute discs